How To Properly Rip Up Carpet Flooring
With a multitude of easy-to-install DIY flooring options available to homeowners and builders, it's never been easier to complete a quick remodel or design refresh! Many hard surface options such as laminate and vinyl even offer click-lock plank technology and floating floor capability for adhesive-free installation. However, for most floating floor options, carpeting is not an acceptable subfloor to install new flooring over. You can always stop by our Carpet Mart showroom in Louisville KY and our flooring experts can help you review your favorite DIY flooring option's installation requirements. If you do have an older, worn carpet pile that's past its prime, here are a few general tips on how to rip up carpet properly:
First, gather the following supplies to complete this task: Utility knife, flat pry bar, nail-puller pliers, dust mask, safety glasses, work gloves, duct tape, and contractor garbage bags.
Optional but often helpful supplies include adhesive remover, scraper, and hammer.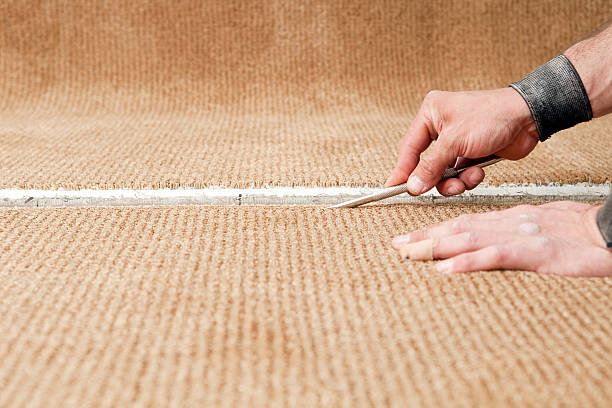 When ripping up carpet yourself, you will need to figure out how to properly dispose of the old materials. Rather than throw old carpeting in a dumpster, check first to see if there is a carpet recycling program in your area. Our Carpet Mart carpet experts can assist you in this search! We always recommend checking with your trash service before leaving old rolls of carpet curbside in case they don't pick them up.
Before beginning your old carpet removal, secure your dust mask on your face to prevent inhalation of particles. You will need to remove all furniture from the room and items on the floor beforehand. In some cases, you may need to remove a bedroom, closet, or bathroom door depending on which direction they swing open. If you plan to reuse any current baseboards or shoe moldings in the room, use the pry bar to carefully remove them and take them into another room while you are removing old carpet.
Now it's time to identify whether your old carpet has a tack or tack-strip installation. If your old carpet was installed with tacks, use your utility knife to cut a small square from one corner of the carpet. Pull the square free, then pull up the carpet beginning in that corner until it is free. If your carpet was installed with tack strips, use your utility knife to cut the carpet into thin, easy-to-manage strips. Be sure to carefully cut through the backing without hitting the floor underneath. Put on your work gloves and safety glasses and begin!
Start by using your pliers to tightly grab the carpet. Now pull the carpet towards yourself to detach it from the sharp tack strip along the wall. When the corner of the carpet becomes loose, pull the remaining carpet along the length of the wall until all edges of the strip are free. Roll up each strip of carpet and secure them with duct tape. Dispose of the carpet roll in your contractor garbage bags and remove them from the room as you go. If you are installing new carpet and your tack strips are not rusted or damaged, you can leave them for the new installation. Otherwise, you will need to remove the tack strips completely! If needed, use your hammer and scraper to create space underneath a tack strip to wedge your pry bar in. Use your pry bar to lift and remove all tack strips around the perimeter of the room and dispose of them in a contractor garbage bag.
Once your carpet is up, it's time to remove the carpet pad. If the carpet pad was secured with staples, use pliers to pull up the staples individually. If the carpet pad was attached to a concrete subfloor with adhesive, you may have to scrape it up or use a commercial adhesive remover to return your subfloor to prime installation condition. Roll up the old carpet padding and dispose of it into contractor garbage bags. Removing older carpeting and padding yourself will help save you money during the new flooring installation process!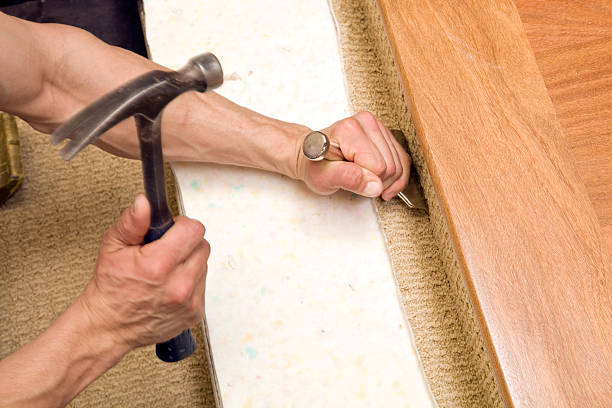 Now is the perfect time to give your household new surfaces and it's easy to learn how to rip up carpet like a pro. Make sure to stop by our Carpet Mart showroom in Louisville KY and pick out your favorite flooring options to install over your properly prepared subfloor.