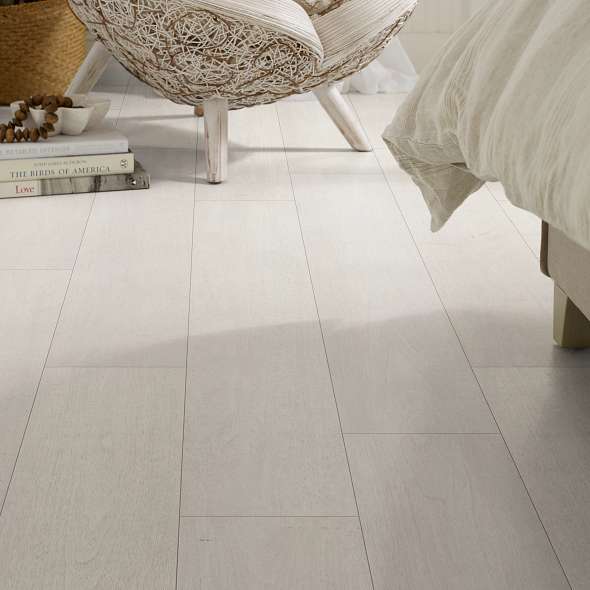 If you are considering upgrading your existing floors, you don't have to look far before you'll find someone singing the praises of vinyl flooring. It's no big surprise since there is so much to love about this option for floors! It's waterproof, stands up to traffic and wear, doesn't stain, and is easy to DIY. Available in a wide variety of design options, it can complement any decor. If you are in need of a durable and flexible flooring option for your space, you must consider luxury vinyl. But will it be LVP… or perhaps LVT? What exactly is the difference and which should you choose? Read on for a brief education on the types of luxury vinyl flooring and how to know which is right for you.
LVP (Luxury Vinyl Plank)
As the name suggests, LVP or Luxury Vinyl Plank is vinyl flooring in plank form. It is available in many wood-like finishes, to mimic the look of hardwood floors. LVP would be a great option to consider for an area that is high traffic or has the potential to become wet, but it is honestly stylish enough for any room of your home- or all of them! With the classic look of hardwood, LVP is not likely to fade like many trends but choose your finish carefully if you are looking for a neutral floor for design or resale purposes.
LVT (Luxury Vinyl Tile)
LVT is different from LVP in name, but little else. Both products are made the same way; a synthetic core is overlaid with a layer that mimics another type of flooring, and a thin, transparent layer protects the flooring from wear. Most brands feature a "click" together installation method; each piece of flooring has a lip on one side and a groove on the other. They join together to form a tight bond. The result is a floor that is unaffected by much that life throws at it.
LVT is manufactured to look like tile, which is a durable and versatile product, suitable to many of the same environments already mentioned. Why install LVT instead? Because it is simply much easier. Where tile requires a level subfloor, a wet saw, messy adhesive, and grout, LVT requires none of the above. It can be laid over many existing floors or subfloors, is easy to cut, and forgiving to imperfections. Since most varieties "float" there is no need for glue.
LVT would be an excellent option in areas where you would opt for tile since it has the same waterproof properties. In some geographic areas, tile is seen used throughout homes; in other areas that is not as common, so be sure to consider what is popular in your area if you are doing an entire floor of your home. Most LVT mimics slate, marble, or basic ceramic tile, and is available in major retailers but in fewer finishes than LVP, although it is possible to special order additional options.
For the best selection and personalized help, reach out to the knowledgeable staff at Carpet Mart, INC. They can discuss flooring of all types and steer you to the best option for your space, as well as help you with measuring, special orders, and installation. In the end, you'll have a beautiful- and low maintenance- new look for your home.