Vinyl Flooring Installation Methods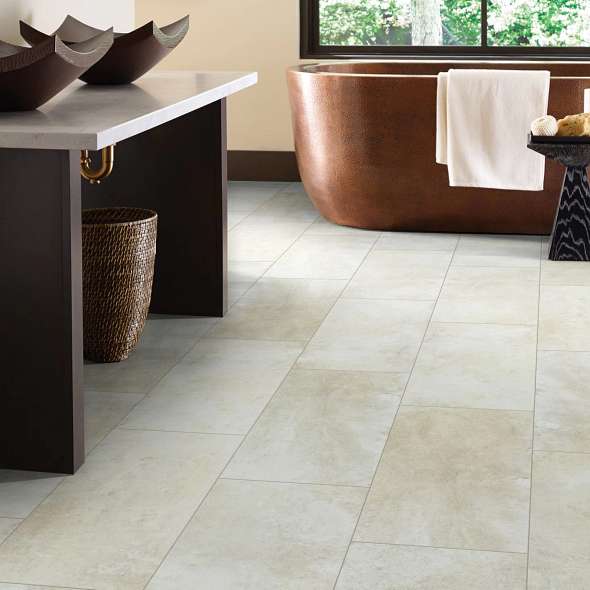 Whether you install it yourself, or hire a professional, vinyl is an excellent choice when renovating your floors. Made completely from inorganic sources, vinyl is waterproof, versatile, and available in numerous styles to fit almost any decor. The most common varieties include tongue and groove, peel and stick and sheet vinyl, each having their own installation methods. One detail to keep in mind when installing flooring: always prepare the area first. Remove base trim, check the existing floor for damage, then sweep debris, secure any nail or screw pops and wash the floors, if necessary. Make sure to save the base trim! You may want to reuse it, or choose to replace it later.
Tongue and Groove Flooring Installation
Luxury vinyl tile (LVT) or plank (LVP) are both designed to snap together using tongue and groove technology. Each piece of flooring, which is rectangular to mimic tile, or plank-shaped to mimic wood, has a tongue on one side that snaps into a corresponding groove on another. Once joined together, LVT/P forms one continuous "floating" floor. Installation requires no glue and only basic tools such as a measuring tape, pencil or chalk, straight edge, utility knife and/or power saw, pliers, mallet and tapping block.
Easy to install over almost any sturdy, level floor, the flexible version of LVT can be scored with a utility knife along a straight edge and snapped; it will break cleanly along the line which was scored. When cutting small or irregular sections, it's helpful to score then use pliers to flex and remove the pieces. In the case of rigid core flooring, a power saw is required. Snapping the floor together is simplified by the use of a rubber mallet and tapping block, so the tongue of the flooring is not damaged. Just gently tap over the seams you want to join, then use the block and mallet and tap the end of the piece of flooring to join them snugly.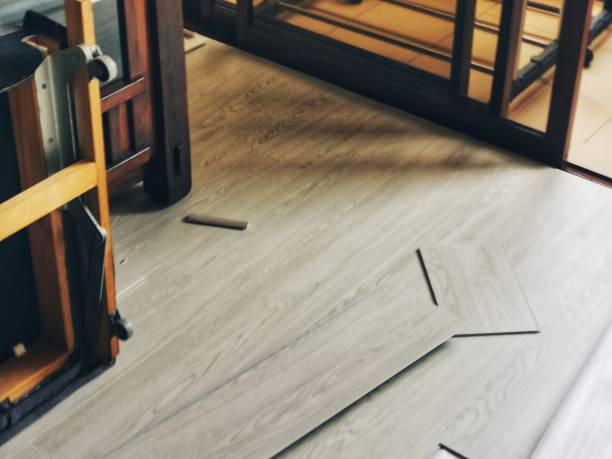 Peel and Stick Flooring Installation
Peel and Stick is a variety of vinyl flooring, which comes with glue pre-applied, and a backing that is removed during installation. There are two different varieties of peel and stick flooring; one type sticks directly to the existing floor and the other has "glue fins" which stick to adjacent pieces of new flooring. Only basic tools are required for installation, such as a measuring tape, pencil or chalk, straight edge, utility knife, pliers and a weighted roller. Also appropriate for installation over most smooth, existing floors, the method is similar for both types. Pieces are measured, scored and snapped to fit the space required. Place them down before peeling to ensure a good fit. Once you have verified your cuts, peel, stick and then roll over the seams with the weighted roller to ensure the glue adheres well.
Sheet Vinyl Installation
Sheet vinyl, which is one continuous piece of flooring that covers the entire floor from wall to wall, comes in a variety of widths and must be cut to length from a giant roll. Available in two different types, glue-down and "loose lay," it is generally the most difficult vinyl floor to DIY. If you should choose to undertake this project yourself, be sure to acclimate the flooring to your home by loosely unrolling it for 24 hours. Create a paper template, so your cuts are correct. Place the template over the unrolled flooring and mark, then cut. In the case of glue-down, spread adhesive on the subfloor with a trowel. A "loose lay" vinyl floor requires no glue. Instead, it is cut and laid on the subfloor, and held in place by wall trim. Work on half the floor at a time; simply fold the part you aren't using until you are ready to either glue or loose lay the flooring. Afterward, replace the base trim.
Now that you know the basics of vinyl flooring installation methods, you can decide whether or not you need the help of a flooring installer. Overwhelmed? Need more information? Check in with the folks at Carpet Mart. They can help you with options and even suggest the right professional for your job.